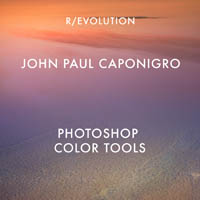 Photoshop Color Tools 
Photoshop Color Tools will help you master all of the color adjustment tools in Adobe Photoshop to achieve unprecedented control of your images.
Find out which tools are the go to tools (the ones you¹ll use everyday), which are exotic (the ones for exceptional images), and which are redundant and/or too limited (the ones you can forget about).
Make every adjustment tool more precise by using blend modes to target specific components of color (hue, saturation, and luminosity) and easy to use selections / masks.
Topics covered include...
1    HSL        
         Essential elements of color
2    Color Management in 6 Simple Steps 
         Get accurate consistent color quickly
3    Monitor Histograms    
         Avoid clipping and posterization
4    Editing Strategy    
         Keep it non-destructive and flexible 
5    Color Tool Survey    
         Go to, exotic, and redundant tools 
6    Blend Modes     
         Eliminate side effects with targeted results
 
7    Raw Conversion     
         Cook your file perfectly
8    Shadows / Highlights    
         Preserving shadow and highlight detail
9    Channel Blending     
         Fix deficiencies in one channel with another
10   Levels- B&W Points  
         Get a real black and white and set nuetrals
11   Curves      
         Master luminosity 
12   High Pass Contrast    
         Accentuate edge contrast 
13   Selective Color      
         Make subtle hue specific adjustments
14   Saturation & Vibrance   
         Make colors more or less intense
15   Photofilter & Overlays    
         Wash colors with another
16   Match Color      
         Remove dramatic color cast
17   B&W Adjustment Layer    
         Convert color to black and white
18   Select by Color Range    
        Quickly makes selections based on hue
And much more!
$69.95 with free Shipping and Handling
Learn these techniques hands on in my Fine Art Digital Printing workshops.
Sign up for my free enews Insights to get prerelease discounts on new titles.